Each year, AdClub WNC members are invited to nominate a deserving individual for the Silver Medal Award, the highest honor awarded by the American Advertising Federation's local clubs.
The Silver Medal Award program was established in 1959 to recognize men and women who have made outstanding contributions to advertising, been active in furthering industry standards, exhibited creative excellence and demonstrated responsibility in areas of community development.
Criteria
Judges use the following criteria when making their selection:
Contribution to His/Her Company
The recipient must have achieved success in one of the following areas of work: advertising agency, advertiser, broadcast or interactive media provider and/or advertising services.
Creative Ability
The recipient must have shown a consistent, high degree of original thinking in their field.
Contributions to the General Advancement of Advertising
The recipient must have worked to increase the stature and raise the standards of the advertising profession.
Contributions to the Community
The recipient should be someone who has been active in civic, religious or other groups dedicated to human or social welfare.
2018 Silver Medal Award
Chris Cavanaugh, President and Founder of Magellan Strategy Group and a local leader in marketing research advancement. He's been called "a Swiss Army knife of strategy and marketing skills" because of the diverse set of capabilities and experiences he offers. He's also been called far worse, but that's a different story.
Cavanaugh has served as a strategic planning and marketing consultant for over a decade, and has worked with a wide range of clients and projects. He is most proud of his versatility, professionalism, and ability to listen to clients and their stakeholders. He is widely recognized for his ability to see through the daily minutiae which clouds the vision of even the best manager and to identify strategic opportunities.
Prior to founding Magellan Strategy Group, Cavanaugh served as vice president of marketing for The Biltmore Company in Asheville, NC, the owner of Biltmore Estate, America's largest home. While at Biltmore, Cavanaugh helped guide the company's marketing planning, strategy, and execution for almost ten years as part of an amazing team of talented people. During his time, Biltmore doubled its annual revenue and became the most visited historic house attraction in the U.S. Cavanaugh also directed marketing for the Inn on Biltmore Estate, a four-star hotel on the property, and the Biltmore Estate Winery, the most visited winery in the nation.
The Governor of North Carolina appointed Cavanaugh to the state's travel and tourism board in 2003, and he was reappointed in 2010. He is past chairman of that board, and also past chairman of the Buncombe County Tourism Development Authority (overseeing the work of the Asheville CVB) and Blue Ridge Mountain Host, a regional marketing association.
Cavanaugh was selected as a recipient of the 2014 Southeast Tourism Society Shining Example Award for his work with that organization and the industry. In 2015, the Travel Industry Association of North Carolina presented him with the Tourism Excellence Award for an Individual for outstanding contributions to the development of the travel industry in the state.
Cavanaugh holds a bachelor's degree from Vanderbilt University and an MBA from Emory University. He had a career in consumer packaged goods marketing prior to joining The Biltmore Company, working in such diverse categories as apparel and food products.
He is currently a board member of Asheville Area Habitat for Humanity.
2017 Silver Medal Award
The Western North Carolina chapter of the American Advertising Federation (AAF), has named Elizabeth Sims, an all-encompassing strategic communications professional, as the recipient of the 2017 Silver Medal Award in recognition of a lifetime of service to the advertising and marketing community, to Asheville and to the surrounding region.
Sims routinely brings fresh ideas and strategic thinking to every communication opportunity she encounters. She began her communications career at Price/McNabb's former Asheville location, followed by the Biltmore Company where she worked for 18 years and served as Vice President of Marketing Communications. Within this role she played a pivotal part in building a world-class marketing communications department along with a talented team of marketing professionals for America's Largest Home. In 2009, Sims switched gears and established her own marketing communications company. Her clients have included the Blue Ridge Parkway's 75th Anniversary, the Asheville Convention and Visitors Bureau, the Asheville Independent Restaurant Association, Magellan Strategy Group, John C. Campbell Folk School, the Blue Ridge National Heritage Area, Grovewood Village, the Tryon International Equestrian Center, the Blue Ridge Music Trails of North Carolina, Biltmore Farms and Tupelo Honey Café.
She became Vice President of Marketing for Tupelo Honey Café in 2012 and was part of a team that led the restaurant's geographic expansion throughout the Southeast. She also authored two national cookbooks with Andrews McMeel Publishing, a subsidiary of Simon & Schuster. The first book, entitled Tupelo Honey Cafe: Spirited Recipes From Asheville's New South Kitchen, was published in 2011. The second book, Tupelo Honey Cafe: New Southern Flavors from the Blue Ridge Mountains, was published in 2014. A third Tupelo Honey Café cookbook about cocktails and small plates will be published by Andrews McMeel in fall 2017.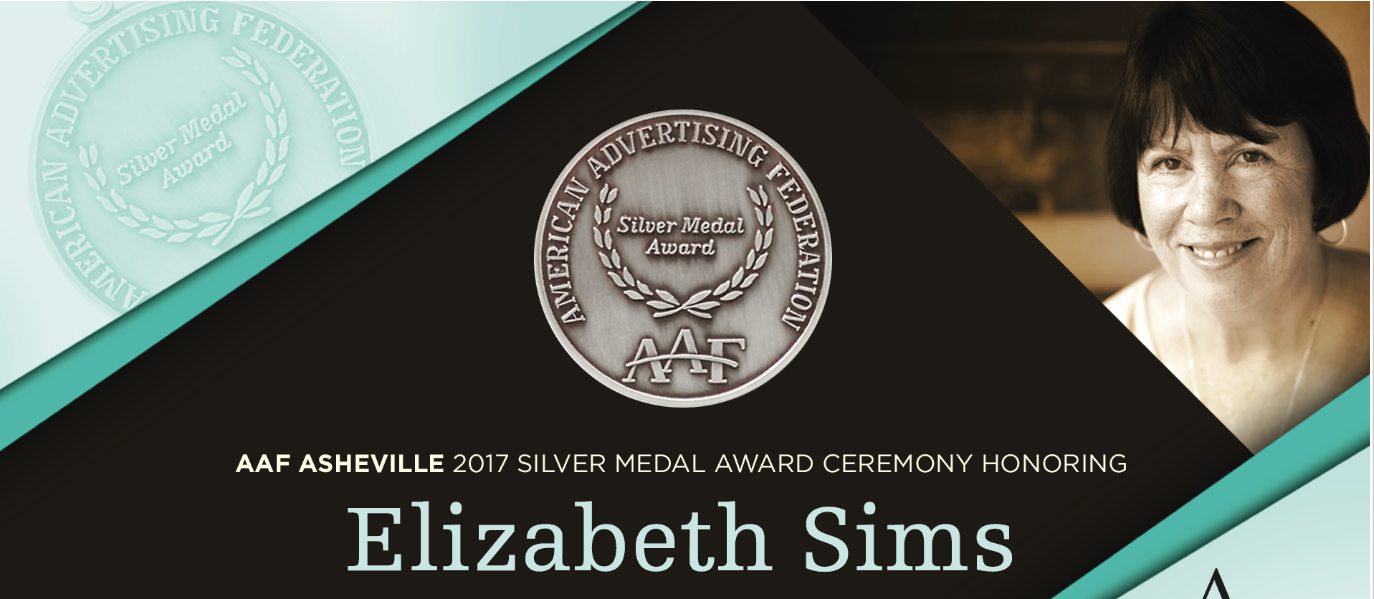 As a freelance writer and public relations professional, she has also been published in National Geographic Traveler, Southern Living Magazine, Garden & Gun
Magazine, US Air Magazine, Taste of the South Magazine, The Bitter Southerner, Our State Magazine and numerous daily newspapers.
"She has generated a body of work–from well-crafted public relations stories, to astounding business successes covering a range of topics–by using her skills as a master communicator in order to make things happen. The woman has stamina," said Russell Shuler, a colleague of Sims.
Described by her peers as having an innate way with words, Sims has maintained a strong presence not only in the Asheville's marketing industry, but throughout the community. She is on the board of the Asheville Independent Restaurant Association, Edible Asheville and the Appalachian Food Summit and served as a 2017 James Beard Awards judge in media. She is the past president of the Southern Foodways Alliance and a past board member of the Asheville Area Habitat for Humanity, the Buncombe County Tourism Development Authority and Friends of the Blue Ridge Parkway.
2016 Silver Medal Award
Brad Campbell
2015 Silver Medal Award
Jay Fields
2013 Silver Medal Award
Jim Daniels
2012 Silver Medal Award
Charlie Price